Firestik LED strobe equipped safety flags utilize a unique multi-purpose strobe light for use in a variety of emergency, safety, signaling or identification applications. The multi-function strobe, called StrobeStik, provides safety lighting for off-road recreation, mining, construction, highway safety, police, search and rescue, camping, hiking, backpacking, hunting, kayaking, boating, personal safety and more. The possible applications are limited only by the imagination.
StrobeStik's 1 watt LED is powered by a single "AA" battery. The "AA" is the most recognizable and commercially available battery in the world, allowing for inexpensive and convenient battery replacement. Typical battery life, using the leading discount store alkaline, ranges from 8 to 100 hours depending on the user-selected mode. Click here to see mechanical specifications
The 6 Strobestik modes are:
MODE 1
No light or strobe. Battery saving off-mode.
MODE 2
Solid-on - Stays lit; no strobing action. Continuous operation of 8 hours.
MODE 3
Slow Strobe - One flash per second capable of over 100 hours of continuous operation.
MODE 4
Fast Strobe - 2.7 flashes per second for 25+ hours of continuous operation.
MODE 5
Triple Flash Strobe - 3.8 flashes per second for 20+ hours of continuous operation.
MODE 6
Random mode - 30+ hour run-time; random flash pattern designed to reduce habituation behavior. Habituation results in a decrease of the desired reaction to a repeating stimulus. By disrupting the repetition of the stimulus (i.e. randomizing the strobe pattern), awareness of the stimulus can be heightened. Click here to see strobe modes.
Changing the modes is as easy as twisting the hex-shaped head back and forth from off to on.
StrobeStik's high-power 1 watt LED is equivalent to 16 single light emitters tightly compacted into one LED circuit. Don't be fooled by the marketing hype of other strobe products that feature large clusters of low-powered LED's. Strobestik's single LED is capable of producing flashes of light that are visible for several miles.Click here to see how the StrobeStik is mounted to the FlagStik
The StrobeStik body is made out of lightweight anodized aluminum. It will not rust. The two-piece twist on/twist off design features double silicone o-rings which protect the unit from rain, snow, and total submersion in water. The fluted polycarbonate lens is designed for efficient 360-degree light dispersion (plus visible from overhead), and is resistant to discoloring from harmful UV rays.
A ¼"-20 threaded acceptor makes StrobeStik compatible as an add-on with "StrobeStik-Ready" Firestik safety flags. The removable light is also compatible with traditional camera tri-pods, and other common ¼"-20 threaded mounts and screw-on adaptations.
Strobestik is compatible with all 1.2 - 1.5 volt "AA" type batteries including alkaline, lithium, and NIMH rechargeable batteries. StrobeStik is also capable of full-power operation using a single "AAA" battery. However, expected battery life will be noticeably shorter. Package instructions with operating times here
StrobeStik is currently available with red LED.
Firestik LED strobe safety flags also offer all the same features as our premier flag line.
100% Oxford polyester red or orange safety flag mounted on a flexible 3/8" fiberglass rod, and finished in one of 8 different colors (Black, Red, White, Blue, Neon-Green, Neon-Yellow, Neon-Orange, Neon-Pink). The colorful PVC shrink tubing protects each rod from sun-splintering and deterioration, in addition to providing increased durability and enhanced color visibility. Our special composite blend of fiberglass and resin makes our rod the most durable choice for any safety flag application. The 3/8"-24 threaded base is compatible with a large variety of brackets, mounts, springs, quick disconnects and other mounting hardware. Rods are available in one foot increments from 2'-9' tall. Flag is removable and/or replaceable and rotates freely on the rod. Flag available in triangular pennant style (18"x9"), rectangular (12"x8") and square (12"x12"). The triangular flags are available in red, safety orange or safety yellow. The rectangle flags are available in red or safety orange. The square flag is available in safety orange. Click here for flag specifications
Suggested Uses
Dune Buggy's - Escort Vehicles - Construction Markers
ATV's - Bicycle Safety - Wheelchair Locators - Bumper Markers
Kayaks - Air Boats - Mine Vehicles - Over-Size Vehicles
Property Boundaries - Course Markers - Path Guides
Other Flag Related Items
3-Way Flag Mount
Flag Mounting Stud
Flag Springs
Escort Vehicle Roof System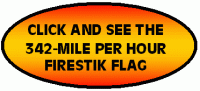 NOTICE REGARDING OVER-SIZE SHIPPING:
Flag rods of 5 feet and longer will incur extra oversize shipping costs. It is possible, in some cases, that the shipping cost will be as much or more than the cost of the rod. Buyers may want to consider 'group' buying amongst a group of friends, club or organization to help defray the per piece shipping costs of these longer rods. Or, contact your local supplier, and ask them to start stocking Firestik Safety Flags. If there is local dealer that you use for flag products and you would like us to contact them, send us an email with the contact information and we'll get a hold of them right away. Just click on the following to email us Flag Information Request
Home