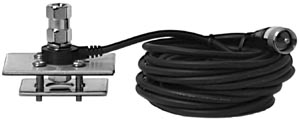 Model: MK-294R
Now you can install a CB or scanner antenna on the bed rail of your pick-up without drilling holes in the exterior of the vehicle. See installation art. You get a quality stainless steel mount and 18 ft (5.5m) of professional grade Fire-Flex coaxial cable (with our exclusive Fire-Ring connector) all in one package! And, if that isn't enough, you save money by getting it all in a kit!
Note: As of early 2016, all PL-259's supplied with FireRing cables are non-booted versions.

The mount in this mini-kit is exclusively available from Firestik. We designed it just for you pick-up truck owners. The mount goes nicely into one of the stake holes found on the bed rail of full size pick-up trucks. The stainless steel bracket drops in and is locked into place with stainless steel hardware. There are no visible mounting holes required. We've even included a gasket to protect the finish on your truck.
Photo collages for visual installation assistance:
For PL259 installation, Click Here
For FireRing antenna stud installation, Click here
Mini-kits give you the freedom to create your own personalized antenna kit. Any of our standard 3/8"-24 threaded antennas or accessories will screw directly into the antenna stud. Pick any color Firestik, Firestik II, Firefly, Road Pal, Scanner, 2-meter or Mach-10 antenna up to 4' (1.2m) to complete your installation. Each mini-kit contains a FREE microphone hanger. WHERE TO BUY?

For Current Pricing ...See Link On Home Page for Maunufacturers Suggested List Price Sheet.
Prices may vary at different locations.
Warranty Coax Cable 1 Year, SS Mount 2 Years