Fire-Flex®
SINGLE ANTENNA COAX
with PL-259/FireRing Termination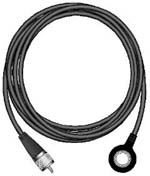 Model K-8R18: 18ft (5.5m)
MSRP* $23.99
Model K-8R9: 9ft (2.7m)
MSRP* $16.99
*MSRP (Manufactures Suggested Retail Price) in U.S. Dollars
These cable assemblies are made from our top-quality RG-58A/U, Fire-Flex coaxial cable. They are to be used on any single antenna installation. This includes CB, scanner, 2-meter, and 10 meter. Main features of our Fire-Flex coax are:
Stranded center conductor to maximize flexibility and prevent untimely breakage.
Shielding coverage that averages 95% to protect against RF leaks and interferrence.
Polyvinyl center insulation for ruggedness and longivity.
Performance that exceeds mil-spec requirements for 50 ohm RG-58A/U coax.
The mount end termination on these cables is our exclusive Fire-Ring. You won't find a more trouble free, low-profile connection anywhere. All of the coax connections are internally soldered and protected from the elements. This termination is designed to fit any 1/2" (13mm) hole. It also has a built in nylon shoulder washer to keep it centered and short free. Inside the FireRing Coax Termination
Cable model specific information:
The 9-foot version (K-8R9) is completly finished. Both the FireRing and the PL-259 connector (the standard coax to CB radio connector) is installed and encapsulated with molded stress reliefs.
The 18-foot version (K-8R18) is supplied without the PL-259 connector installed. This allows the cable can be routed through a much smaller space/hole. The radio/PL-259 end of the coax is pre-proceesed at the factory for easy installation of the supplied PL-259 connector. This cable includes a grommet to protect the cable when routed through a drilled hole (additional grommets are available in our grommet assortment ... Model CGA). A cable clamp is also included to [optionally] secure the cable in place. The supplied PL-connector has a special thread that allows it to be easily twisted unto the cable to accomplish the required ground connection. The center lead of the coax must be soldered to the PL-259 center pin after installed.
All cables with the FireRing termination require the use of our special K-4R stud mounts.
If you are inexperienced in buying coax cable assemblies, you might want to read our article regarding this matter. To do so, simply click here.