IN-LINE UHF
LIGHTENING & STATIC
ARRESTOR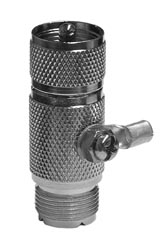 Model: AR-10
Disconnect the coaxial connector at your base antenna, install the AR-10 and reconnect the coaxial cable. Then, run a copper ground wire from the connector housing to earth ground. The ground wire offers a low resistance path that will allow atmospheric static and electrical charges to be totally or partially bled off to earth ground. Redirecting these interfering charges will reduce and/or eliminate much of the hissing and popping noise heard in the receiever. The bleed may also save damage to the receievr circuits. The AR-10 can (should?) be used with CB's, scanners, amatuer radio equipment and other antenna utilizing devices.
For best results, we recommend that the ground wire be at least 10 guage copper and that the connector is soldered to the wire to protect against corrosion causing resistance. Also, for best results it is best to use a copper grounding rod that has been driven into the earth several feet. Copper ground rods are readily available at most home improvement stores or farm supply businesses.
WHERE TO BUY?
Visit our technical library to find the answers to the most common questions or to learn how to troubleshoot or even tune your CB antenna. It is unique on the Internet!
For Current Pricing ...See Link On Home Page for Maunufacturers Suggested List Price Sheet.
Prices may vary at different locations.